It is stormy today, so I decided to make some crepes to cheer us up. And as I bought a beautiful camera I took some photos while I was making the crepes.
But first the recipe :
125g of plain flour
3 big eggs
2 tablespoon of oil or 50g of melted butter
1/2 tablespoon of caster sugar
1 small lid of white rum
1/4l of milk
a pinch of salt
some oil or butter for the pan
Traditionally French people from Brittany use only butter, but with the oil instead there is no need to rest the crepes mix and it can last easily 3 days
Il y a une tempete aujourd'hui, alors j'ai decide de faire quelques crepes pour nous remonter le moral. Ey comme je viens d'acheter un nouvel appareil photo j'en ai profite pour prendre quelques photos alors que je preparais les crepes.
Mais tout d'abord la recette:
125g de farine
3 gros oeufs
2 cuilleres a soupe d'huile ou 50g de beurre
1/2 cuillere a soupe de sucre en poudre
1 petit bouchon de rhum
1/4l de lait
1 pincee de sel
huile ou beurre pour le poele
Traditionnellement les Bretons n'utilisent que du beurre, mais avec l'huile a la place il n'y a pas besoin de faire reposer la pate et on peut la garder facilement 3 jours.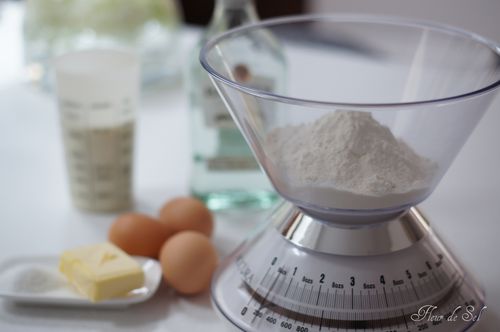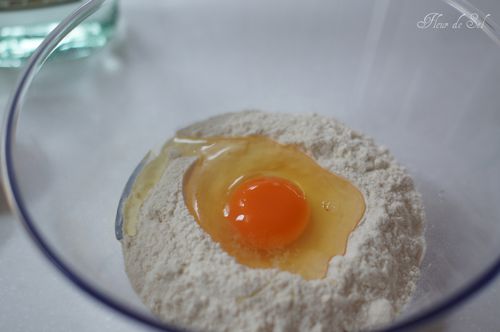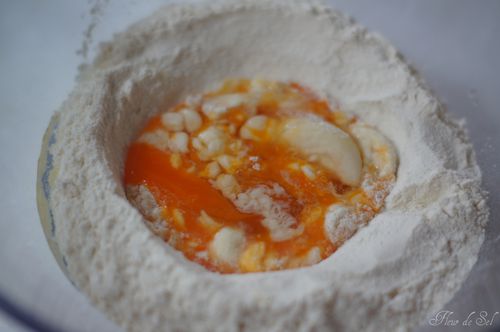 First step :
Put the flour in a bowl, then make a whole in the flour and add an egg, then mix from the centre.
Repeat the operation with each egg.
1ere etape :
Mettre la farine dans un bol, puis creuser un puits, remuer en commencant par le milieu.
Repeter l'operation avec chaque oeuf.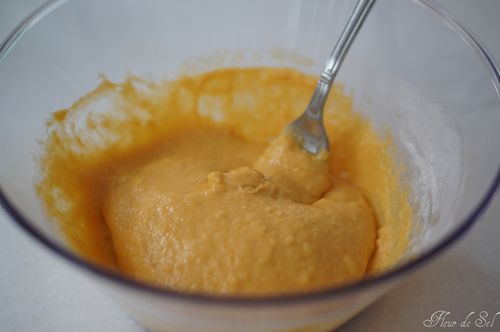 Here is the mix of flour and 3 eggs, it is still lumpy but you will see the result later, no lump, even Matt Preston would be impressed.
Tip : I use a fork to mix the ingredients, it is kind of a work out but I don't like to use machines.
Ceci est le melange obtenu avec la farine et les oeufs, il y a encore des grumeaux mais croyez-moi a la fin il n'y en aura plus, aucun grumeau, meme Matt Preston de Masterchef Australia serait impressionne.
Mon astuce : je melange et bats avec une fourchette, c'est du travail, il faut de l'huile de coude mais je n'aime pas utiliser des robots.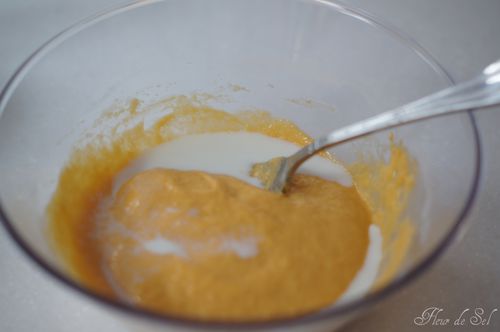 Add the sugar, the rum and the oil or melted butter and mix.
Then add the milk little by little while mixing
Ajouter le sucre , le rhum et l'huile ou le beurre fondu et melanger.
Ensuite ajouter le lait petit a petit en melangeant sans cesse.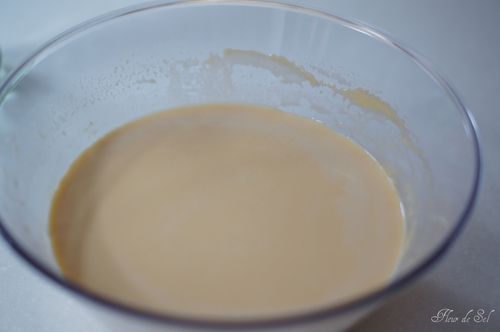 Here is a perfect crepes mix without any lump and made without machine.
Voici une pate a crepes parfaitement lisse, sans aucun grumeau, et sans avoir utilise de machine.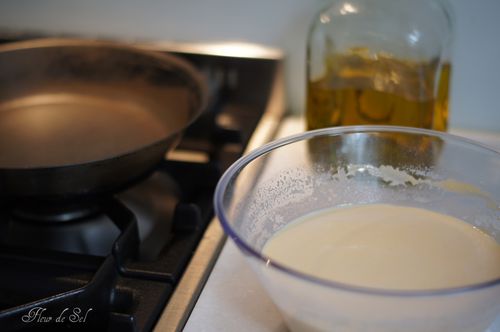 Then you need to spread the pan with oil or melt some butter in it. With a paper towel remove the extra fat.
Graisser la poele avec de l'huile ou y faire fondre un peu de beurre. a l'aide de sopalin enlever le trop plein de gras.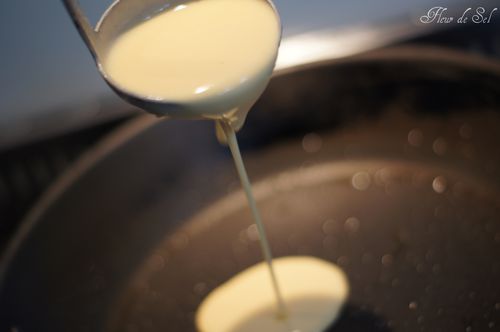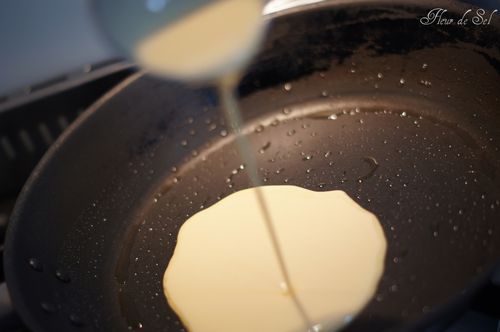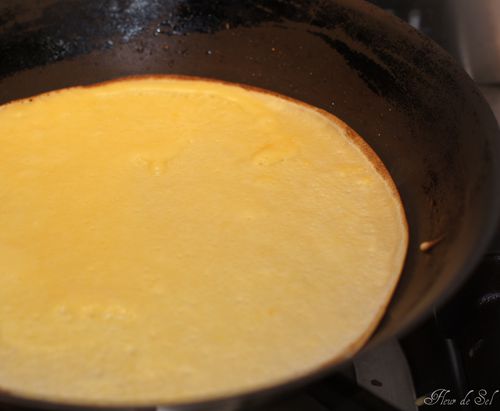 Cook it until the edges are cooked , then turn it.
Laisser cuire jusqu'a ce que les bords soient cuits, puis retourner la crepe.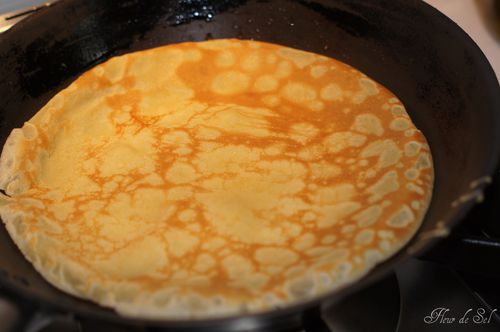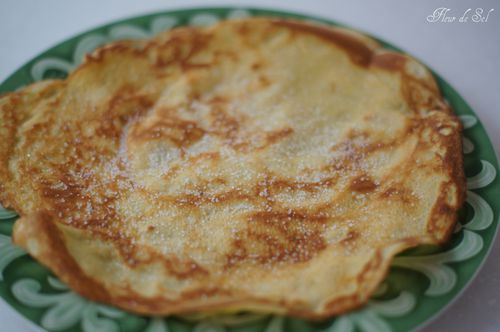 You can spread the crepe with whatever you want, it can be as simple as caster sugar, or Nutella, or maple syrup, or banana and melted chocolate, even strawberries and whipped cream.
Enjoy...
Vous pouvez garnir vos crepes avec ce que vous voulez, cela peut-etre simplement du sucre en poudre, ou du Nutella, ou du sirop d'erable, ou banane et chocolat fondu, voire meme fraises-chantilly.
Savourez...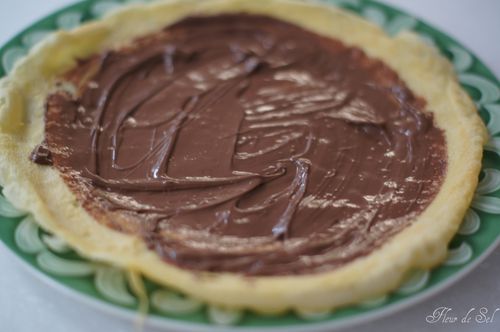 There is way too much Nutella on this one, but it is the way my daughter likes it :)
Il y a beaucoup trop de Nutella dans celle-ci, mais c'est comme cela que ma fille aime les manger :)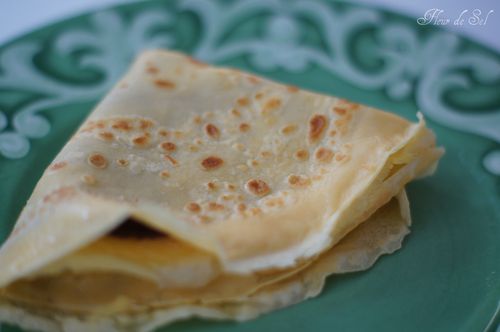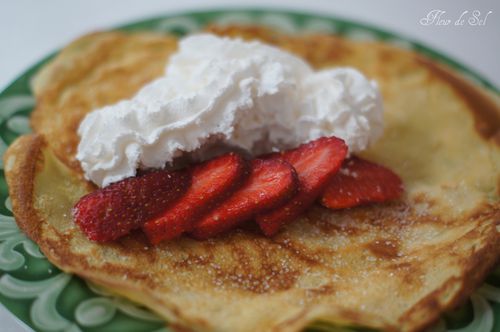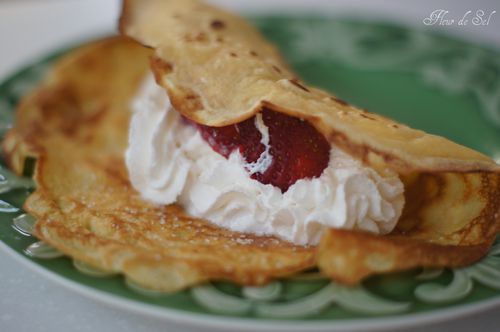 Cheers
A bientot
Fleur de Sel
French homemade cakes and desserts in Sydney
Copyright © 2010 Fleur de Sel www.fleurdesel-sydney.com www.fleurdesel.com.au