Pear-Chocolate Duo , Duo Poire-Chocolat
I am starting to think about Christmas...no, it is NOT too early !
In France we use to celebrate Christmas Eve with a huge diner ,with plenty of luxurious food : foie gras, smoked salmon, oysters, lobster, scallops, prawns, caviar for the luckiest ,turkey, and the dessert traditionally called "buche de Noel", remind us the peace of wood we put in the fireplace to keep us warm for the night.
The dessert I baked is lighter, and more and more people eat mousses, sorbets instead of the very rich chocolate and chestnuts traditional christmas dessert.
Je commence a penser a Noel...non, il n'est PAS trop tot !
En France , nous avons l'habitude de celebrer le Reveillon de Noel avec un repas copieux compose selon les uns de mets raffines et couteux: foie gras, saumon fume, huitres, homard, coquilles St Jacques, crevettes de toutes sortes, caviar pour les plus chanceux, dinde, et le dessert traditionnel appele Buche de Noel, une reference a la buche que l'on met dans le foyer pour nous tenir au chaud toute la nuit.
Le dessert que j'ai cuisine est plus leger, et de plus en plus de monde mange des mousses ou sorbets a la place de la traditionnelle riche buche chocolat-marrons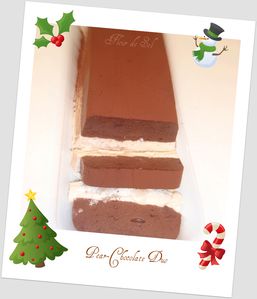 So it's pear and chocolate mousse
Cheers
Fleur de Sel