Strawberry and almond cream tart, tarte aux fraises et a la creme d'amande
Yesterday was sunny and warm in Sydney, so I decided to sun bake and to bake.
What better than a fruit tart to give you a pre-taste of summer!
But I didn't want to make it with pastry cream, as it is often done, because I wanted to enjoy it, and I can't eat cream nor because because of allergies. Therefore I decided to make it with an almond cream.
I took the recipe of the pastry (p356) and of the almond cream(p372) in a beautiful book I had for my last birthday...book of a very famous cake,sweet and tea room shop in Paris since almost 150 years : Laduree, editor Chene
Il faisait beau et chaud a Sydney hier, alors j'ai decide de prendre un peu de soleil et de cuisiner.
Quoi de mieux qu'une tarte aux fruits pour vous donner un avant-gout de l'ete !
Mai je ne voulais pas utiliser de creme patissiere, comme c'est souvent le cas dans ce genre de tartes, car je voulais pouvoir la deguster, et je ne peux manger ni creme ni lait a cause d'une allergie. J'ai donc decide de faire une creme d'amande.
J'ai pris la recette de la pate (p 356) et de la creme d'amande(p372) dans un beau livre que j'ai recu a mon dernier anniversaire...livre d'une maison, d'un salon de the tres connu a Paris depuis presque 150 ans : Laduree, aux editions du Chene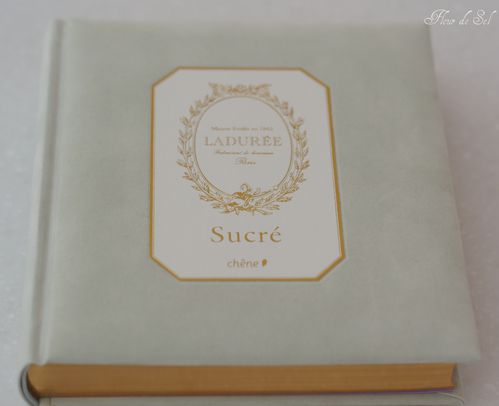 Sweet pastry ingredients :
120g butter
70g icing sugar
25g almond meal
1 pinch of sea salt
1 pinch of vanilla powder, I didn't have any so I used few drops of vanilla extract
1 egg
200g plain flour
Ingredients de la pate sucree aux amandes
120g de beurre
70g de sucre glace
25g de poudre d'amandes
1 pincee de fleur de sel
1 pincee de poudre de vanille, je n'en avait pas j'ai utilise quelques gouttes d'extrait de vanille
1 oeuf entier
200g de farine de type 45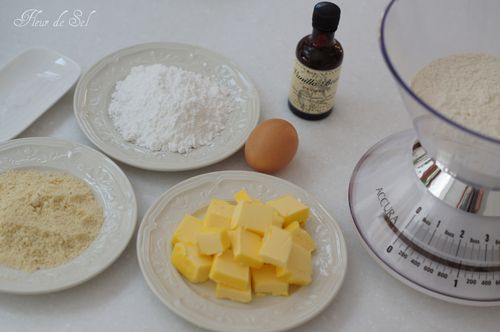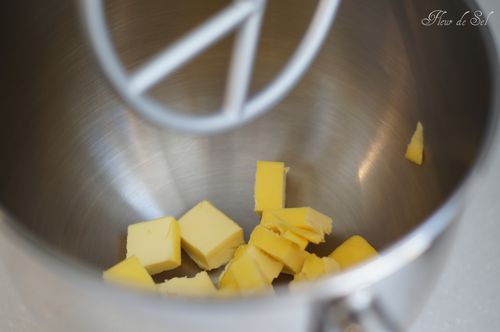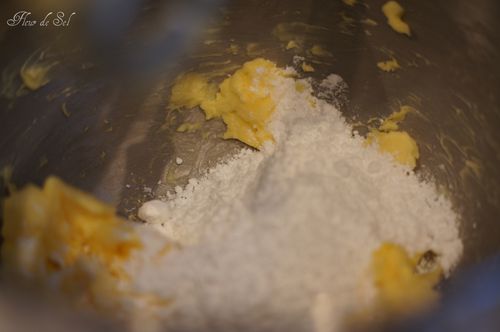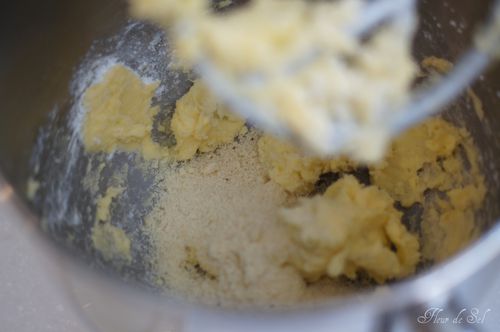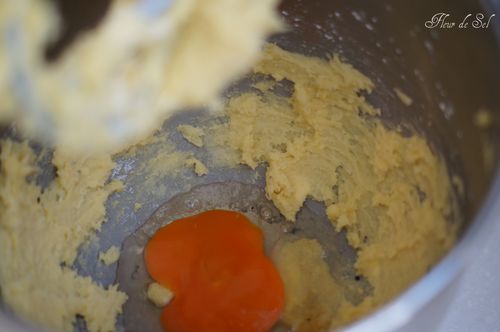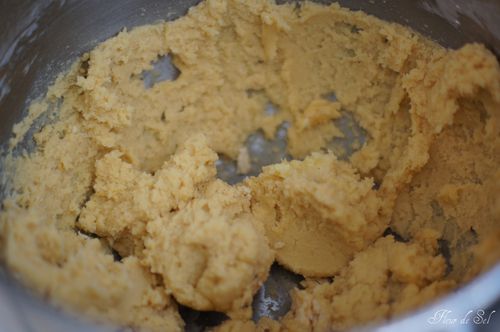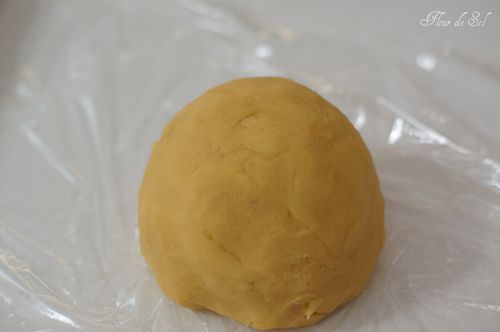 Put your pastry in glad wrap and reserve it in the fridge for at least 2 hours, overnight would be better, it will be easier to roll.
Envelopper la pate dans du film alimentaire et la reserver au refrigerateur pour au moins 2 heures, preparer la pate la veille est ideal, elle est ainsi plus facile a rouler.
Almond cream ingredients:
100g butter
100g icing sugar
100g almond meal
10g corn flour
2 eggs
1 little lid of rum
Ingredients de la creme d'amandes:
100g de beurre
100g de sucre glace
100g de poudre d'amandes
10g de maizena
2 oeufs entiers
1 cuil.a soupe de rhum, j'en ai mis un petit bouchon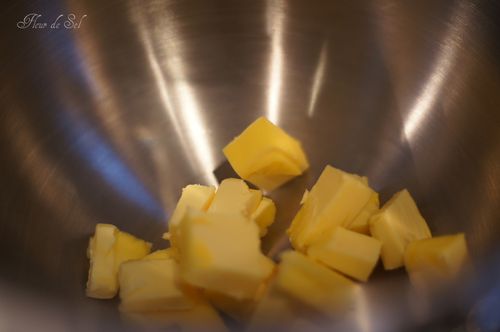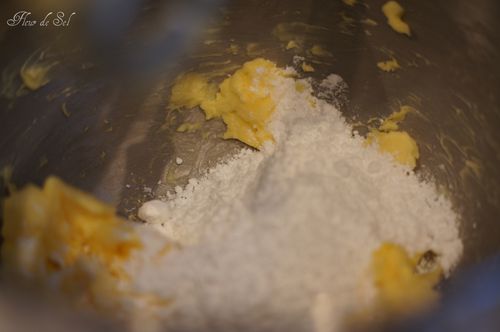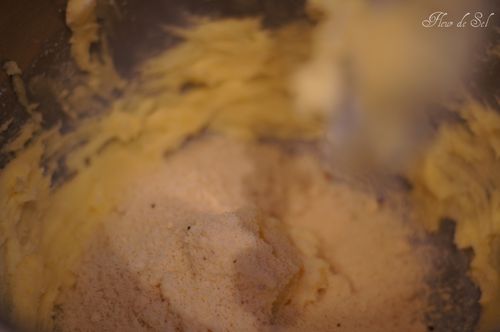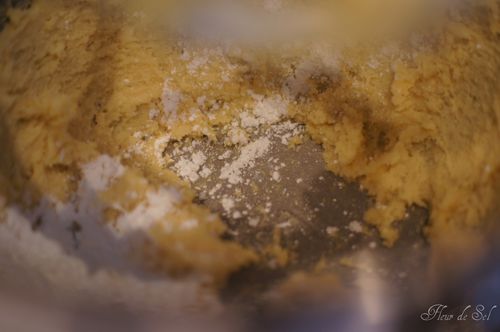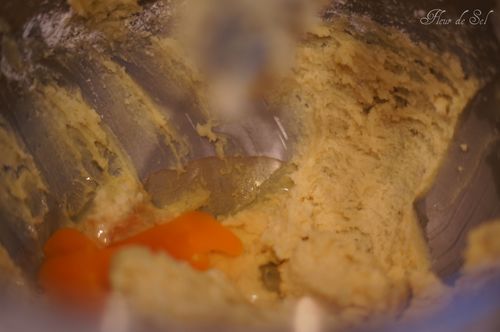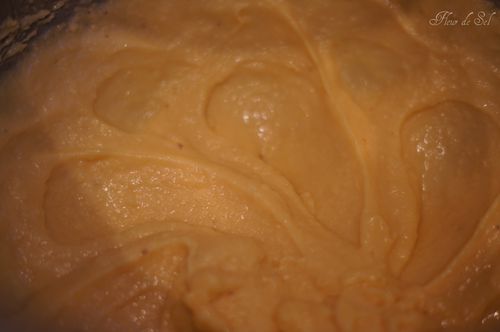 Roll your pastry, put it in a mould greased with butter, pick the pastry with a fork and add the almond cream on the top.
Rouler la pate, la mettre dans un moule a tarte beurre, en piquer le fond avec une fourchette et ajouter la creme d'amandes sur le dessus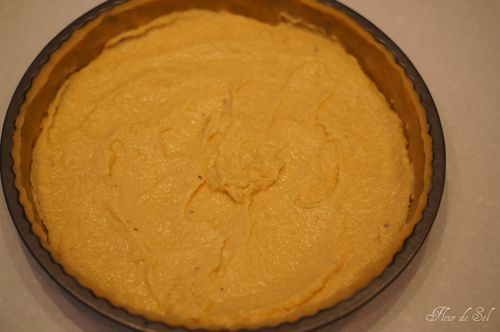 Put it in the oven preheated at 170 celsius degrees for around 20 minutes, but check it, every oven is different
Mettre au four prechauffer a 170 degres pour environ 20 minutes, mais surveiller, chaque four est different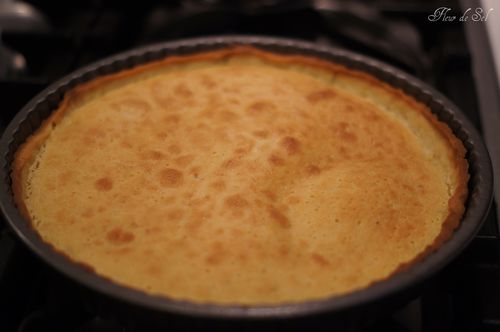 Let it cool down
Laisser refroidir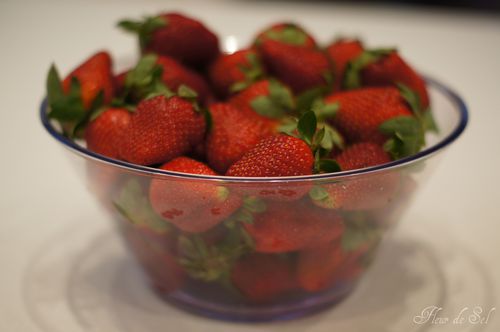 Wash the strawberries, cut the green, and dry them in paper towel.
Then in a pan, heat some redcurrant gely which you will apply on the strawberries...I didn't find any so I used blackcurrant jam which I reduced first...it's why the strawberries look so dark on the tart
Laver et equeutter les fraises, et les egoutter sur du soplain
Puis dans une casserole, rechauffer de la gelee de groseilles qui sera enuite appliquee sur les fraises...Je n'en ai pas trouvee, j'ai donc utilisee de la confiture de myrtilles que j'ai faite reduire...c'est pour cela que les fraises ont une couleur si sombre sur les photos suivantes.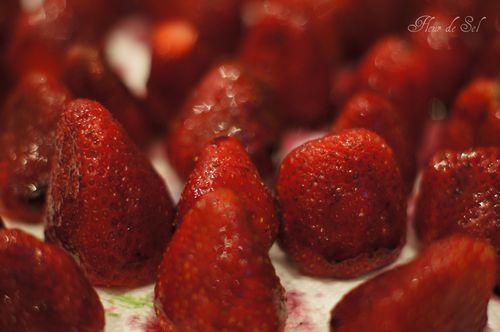 Then just put the strawberries on the tart.
on the mini pie without almond cream, I used soy whipped cream, dairy free alternative
Il ne reste plus qu'a disposer les fraises sur la tarte.
sur la bouchee,sans creme d'amandes, j'ai utilise une chantilly au soja, alternative aux produits laitiers.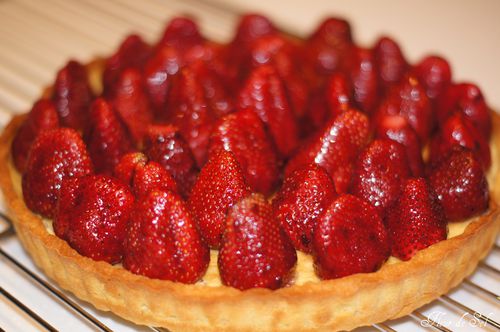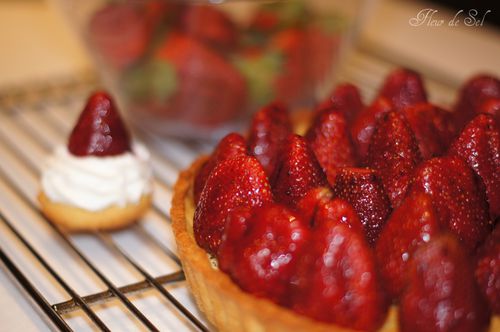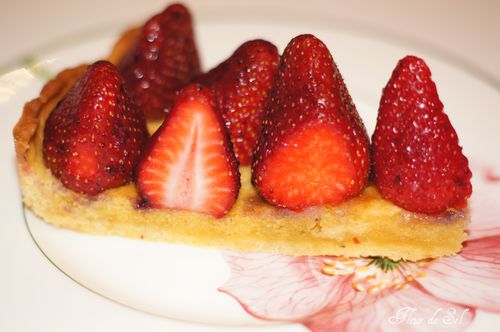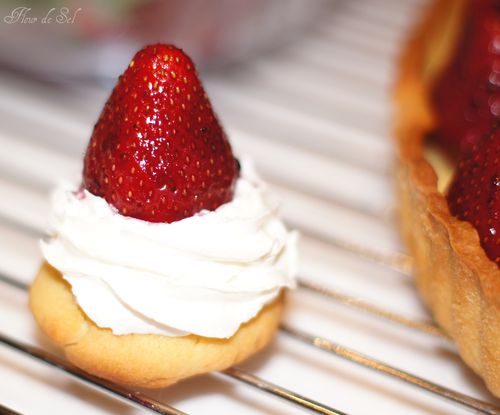 Enjoy !
Regalez-vous !
Fleur de Sel
French homemade cakes and desserts in Sydney
Copyright © 2010 Fleur de Sel www.fleurdesel-sydney.com www.fleurdesel.com.au